Well, here is my new (used) tank: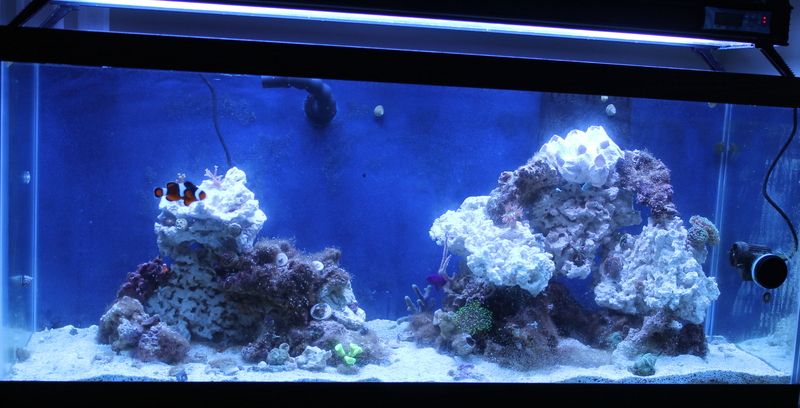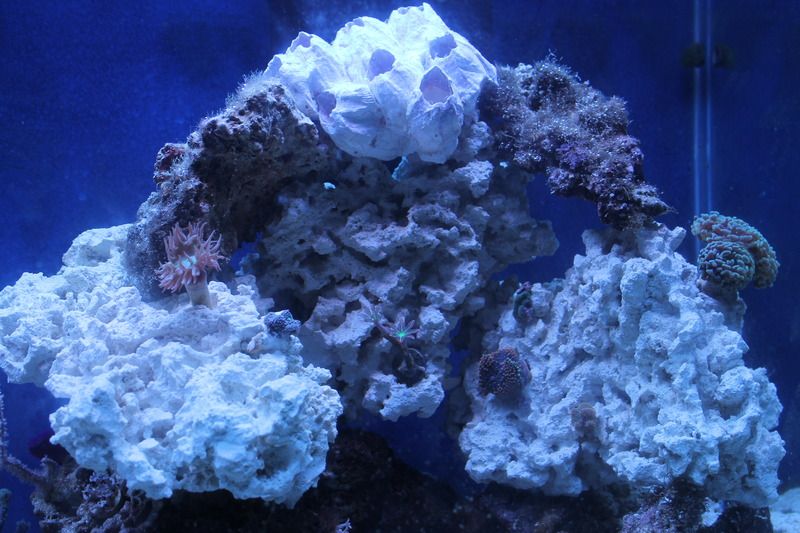 My 40B had a slow leak at a seam (salt creep along the seam), so I took the opportunity to upgrade to a 75g. The back is spray painted with plasti-dip - I used blue for one layer and black for another, which yields a nice darker blue color. I'm really happy with it so far as it is much more durable than the acrylic paint I used previously, but is still removable (peels off) if needed. At that time I also upgraded the lighting from a dual T5 fixture to a 4 bulb T5, as well as adding a RO unit which seems to be helping a lot with the unsightly algae I was growing. I bleached about 1/3 of my rocks with some scuzzy algae.
Picked up some marco rocks at OSRAS conference, plus some corals and other goodies. I still need to beef up my CUC and add a few powerheads to get the flow where it needs to be. I have the supplies to make my DIY screen tops for it. So far I have had a very impressive spread of green soft fine algae all over the glass / powerheads which I removed and it hasn't come back. Otherwise everything seems to have adjusted nicely into the new tank.
Ended up with two bommies that are each coves, and I like both of them although wish they weren't so similar. I've got a few pieces of tonga branch rock that I am thinking of making little arches across the front of the right bommie.
This gorgonian was from a BRS meeting. It was pretty irked in the 40B and had no polyp extension for a few months, but has made a comeback now.
Lots of zoas which were being overtaken by algae are happily popping back up now. On the other hand, I believe I managed to severely irritate a clump of GSP which still has no polyps. No real love lost for that. All the last remnants of anthelia and xenia were eradicated on moving the rocks over
. Unfortunately, I think most or all of the rics I had did not survive transition for whatever reason. Got several replacements at the OSRAS conference though.
Added 2 of these little tiger gobies (Tigrigobius macrodon) - they are supposed to live in pairs / small groups, however one chases the other. I've got two separate bommies so they can each have a territory if they don't pair up.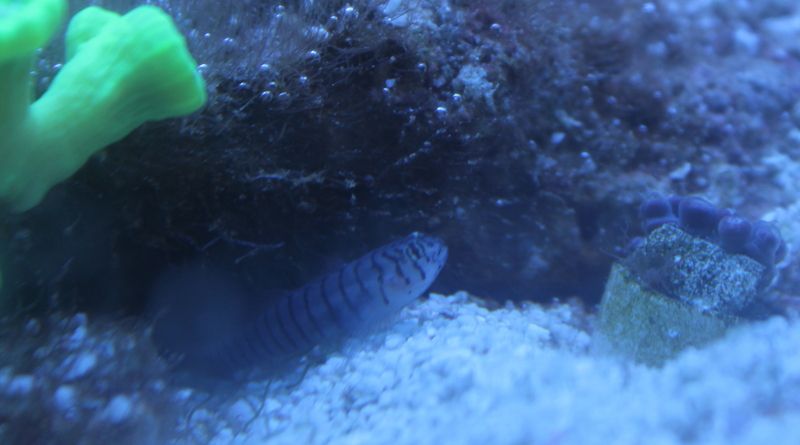 The rest of my current fish-stock is Lucy, my 11+ year old percula, her little 1 year old boyfriend, a royal gramma who eats shrimp
, and a geriatric 3+ year old neon goby.
Finally saw a fighting conch in person. Never realized how interesting they are, but this little dude is quite neat. He was hiding during my little photo shoot.